They've done it ! Christian Clot and the climatonauts have reached the end of the third and final Deep Climate expedition. 40 days of immersion in the hot, arid expanses of the Nefoud desert in Saudi Arabia, which had many surprises in store for them. The landscapes of dunes, rocky plateaux and hills, as stunningly beautiful as they are fearsome, put the climatonauts to a severe test.
They were exposed to temperatures in excess of 45°C in the shade during the day, while remaining close to 30°C at night. Despite the constant heat, the team was able to make a 250-kilometre journey on foot, pulling carts, while carrying out comprehensive scientific protocols on a daily basis, with the aim of understanding the human capacity to adapt to changes and new climates.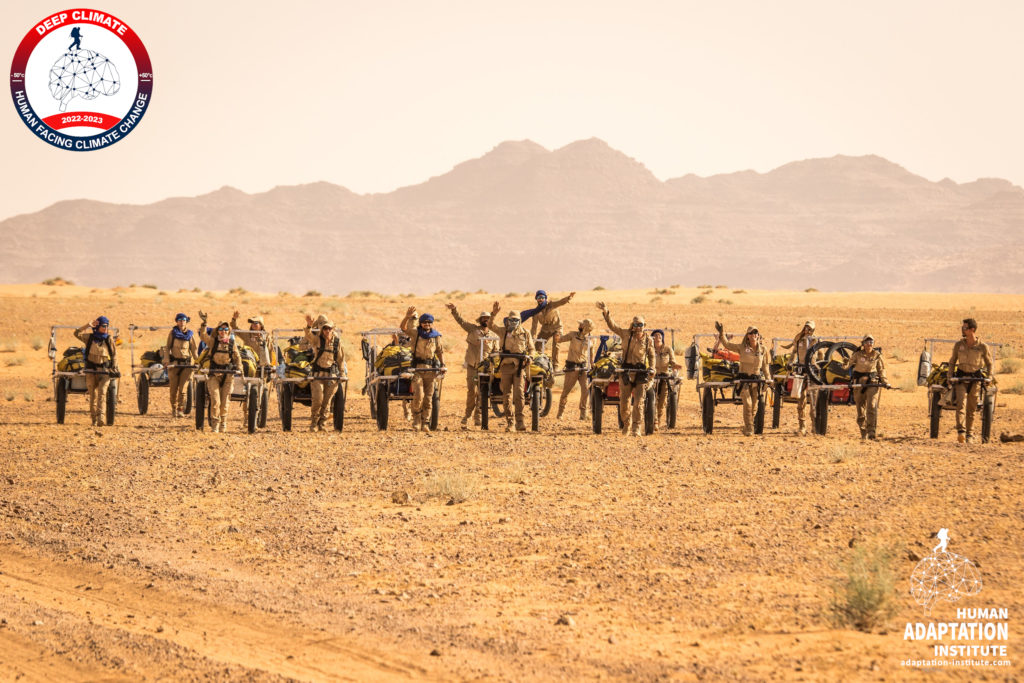 After the equatorial forest of French Guiana and the icy lands of Lapland, this final crossing brings Deep Climate's unique triptych to a close. "It's an extremely emotional day, because we've crossed different territories in the Amazon, Lapland and now here in the Arabian desert," said Christian Clot, leader of the expeditions and founder of the Human Adaptation Institute.
"Reaching the end of this third mission, of these three crossings with the whole team in good health without having had any major problems or accidents, is a magical moment. We've achieved something that, just a few months ago, seemed almost impossible", he added.
Back in France, the whole team will be carrying out post-crossing scientific protocols at the Institut du cerveau (ICM) in Paris to complete the data already collected on site. A colossal set of scientific data that will now be analysed by the forty or so scientists taking part in the project. Although the field missions have been completed and initial results have already emerged, the studies have only just begun and the work will continue for several months and years.
This team "has shown that, thanks to cooperation, a common will and the search for wonder even in the most difficult moments, we can face up to change and, even more so, act collectively to change paths that seem inevitable. A great success, at a time when the challenges that lie ahead are of an intensity as yet unknown", explained Christian Clot.
For more information and feedbacks about these three expedition, follow us on our social media : Facebook, Instagram and Twitter.