After a final check of the equipment and the distribution of personal and collective equipment, food and stoves, dozens of litres of petrol for cooking and a little electricity for all the scientific equipments, Christian Clot and the climatonauts loaded their pulkas for the first time and put on their skis. And started to move on !
Their first tracks appeared in the Lapland snow that covers the lake where they started their adventure. At the beginning, it was already snowing, a snow very cold, thin and thick, pushed "by winds a little too violent for this first experience of most of my team members," said Christian. "But you don't choose nature. You live it".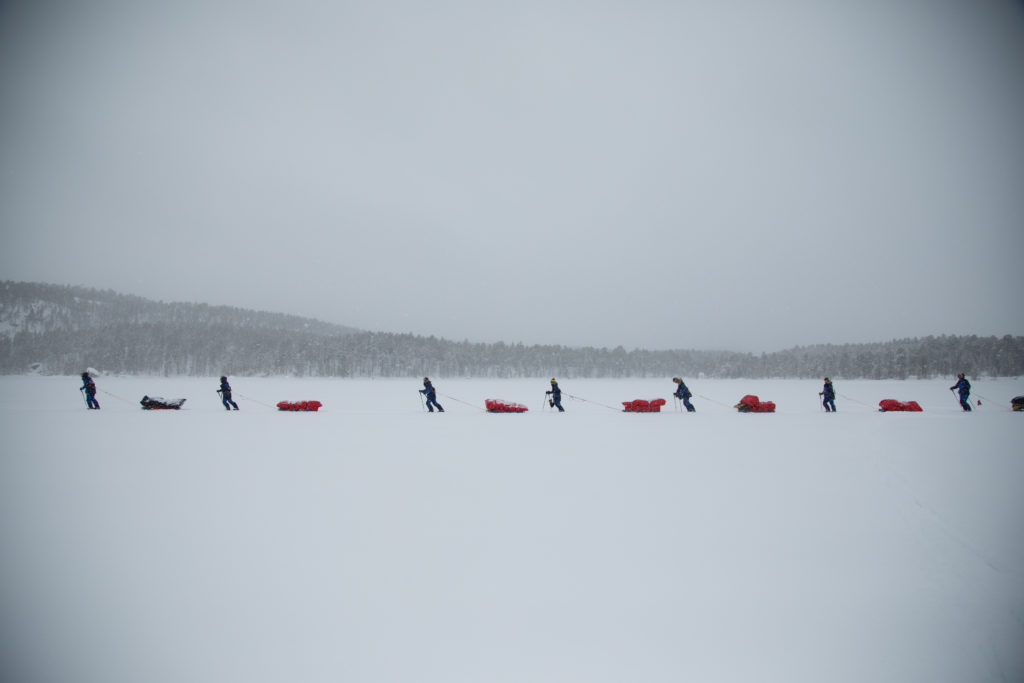 Emotions were once again mixed for this second start of Deep Climate. A stage that has experienced several ups and downs with strikes in France and Finland. But now the team has started its journey in the cold of Lapland. It was -18°C at the start of their journey. This may seem relatively "reasonable" for these regions, but it is still the temperature of a freezer. Imagine living in a freezer all the time, day and night.
The constancy of the cold is one of the main difficulties of this expedition in the polar lands. Facing freezing temperatures is one thing when you can take refuge in a cabin in the evening. It's quite another when you have to deal with them constantly. As the days go by, these conditions are likely to take their toll on the bodies of the entire team. Faced with this cold, the climatonauts will also have to adapt to carry out all the scientific protocols that must be carried out during the journey.
"We are here. The 20 climatonauts. Equipped from head to toe. With enough to live on for weeks on our own and enough to do advanced science. Now we will do what we can, to the best of our abilities, the conditions, the reality of the terrain. We'll have to adapt to every moment. But whatever happens… We are here !"
Shortly before the start, Christian Clot spoke about his first impressions and the difficulties the team will face in Lapland. Listen to the podcast (in French) below.